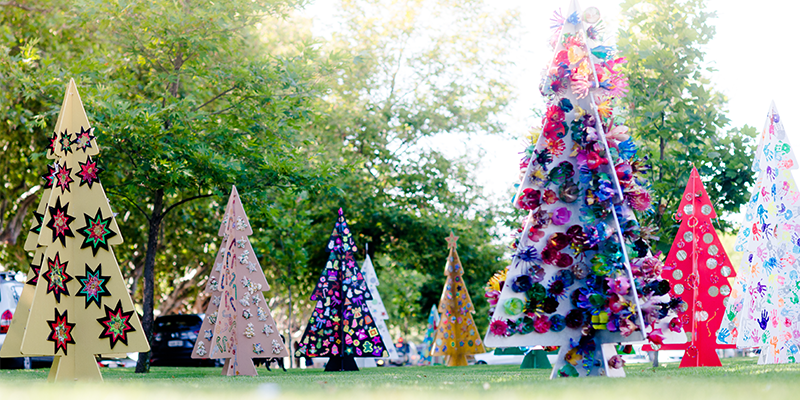 The Norwood Christmas Pageant. The Christmas tree outdoor art gallery. Twilight carols… Yup it's beginning to look a lot like Christmas as the City of Norwood Payneham & St Peters peppers the neighbourhood with all things sparkly, shiny and bright.
While the Council are busy organising a myriad of magic moments, the retailers are also prepping for Christmas, namely for eager shopper's festive finds.
With over 130 shops lined with everything from homewares, gifts, toys, music, books, DVDs, fashion, accessories, electronics, bicycles, sporting goods, furniture and much more – The Parade is a great destination for Christmas gift shopping.
But while the idea of meandering the streets, traipsing in and out of stores at leisure sounds nice, the reality is that when you're tackling Christmas shopping, you need to know where to go - pronto!
So you don't have to waste any of your precious shopping time, we rounded up a few of the best festive finds on The Parade…
For the small folk
These adorable Lapito booties (from $49) by Adelaide-based Pia Nowland are the cutest leather soft sole shoes for little souls.
Available from Brick + Mortar Creative
For mum
The perfect accessory does exist and it comes in the form of Linda Tahija Cross Stud Earrings in sterling silver ($39).
Available from Paloma + Co
For dad
Calling all dads who love a good game and love their gin! Cue: Gin Pong ($29.95), the ultimate party game. Summer barbecues will never be the same again.
Available from Outdoors On Parade
For the grandparents
This reusable bag from Baggu ($19.95) is so stylish and equally versatile. If you use it for shopping, it holds 2-3 plastic grocery bags worth of stuff.
Available from A Trip To The Moon
Now that you have all your Christmas shopping wrapped up, there's just one more thing left to do – wrap the presents. In true festive spirit, The Parade has set up a Christmas Gift Wrapping station in Norwood Place supported by The Salvation Army.
For a gold coin donation you can have a professional gift wrapper add their special touch. 100% of proceeds go to The Salvation Army, helping people in need.
Available between Monday 17 - Monday 24 December from 11am – 3pm daily.
And that's a wrap.
PS: enjoy your Christmas shopping and dining that little bit more because as of 1 December 2018, The Parade (between Osmond Terrace and Portrush Road) will be smoke-free.
NORWOOD'S MAGIC MOMENTS
FESTIVE GALLERY ON OSMOND TERRACE
20 November 2018 – 2 January 2019
Osmond Terrace, Norwood.
Osmond Terrace will be transformed into an outdoor gallery of wooden Christmas Trees creatively decorated by 16 local schools. Visit The Parade, Norwood Facebook Page and 'like' your favourite Christmas tree. The Christmas tree with the most likes will win the school a $250 Dillons Norwood Bookshop voucher plus the Norwood Parade Precinct Committee will kindly donate $1000 to a charity of the winning school's choice.
Vote for your favourite Christmas tree.
TWILIGHT CAROLS 

Friday 7 December 2018, 5.00pm – 9.00pm
Linde Reserve, Nelson Street, Stepney


This free family friendly open-air concert under the stars features seven piece swing band Lucky Seven, and a cappella group 60 Four who will treat the audience to a trip back to the swinging 60s.
MOVIE ON THE OVAL
Saturday 15 December, 7.00pm – 10.30pm
Norwood Oval, The Parade, Norwood


Pack your picnic rugs and baskets, and enjoy a free outdoor screening of Saving Santa.
DONATIONS
Help those in need this Christmas by donating books at the Norwood Town Hall and Council libraries, as well as donating non-perishable food to the Salvation Army or St Vincent de Paul on The Parade, Norwood.
Sign up to discover the best The Parade has to offer.