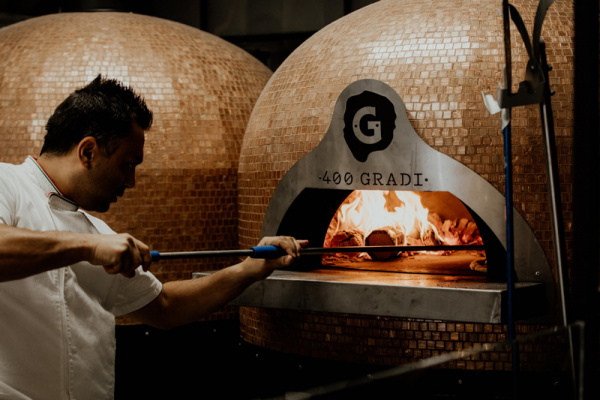 400 Gradi is here. In Norwood. Which means the world's best pizza is right on our doorstep. To celebrate the arrival of the world class pizzeria, we caught up with founder and international award winning pizza maker, Johnny Di Francesco, to chat about all things, well, 400 Gradi!
How was 400 Gradi born?
"I started working in a pizzeria as a boy to make a bit of pocket change and buy a new pair of sneakers, but I was still working there long after the shoes had worn out. I worked my way up the ranks, finding a more active role in the kitchen and learning tricks of the trade from the chefs.
"Before long, I travelled to Italy to learn more about the traditional techniques for authentic Neapolitan cooking, and when I returned to Melbourne, I opened my first 400 Gradi restaurant in the foodie suburb of Brunswick."
Why is it called 400 Gradi?
"In Italian, 400 Gradi translates to 400 degrees – which is the heat of our woodfire oven. We cook all of our pizzas at 400 degrees for 90 seconds – perfetto!"
What's 400 Gradi's best seller and why?
"Our award-winning margherita verace pizze is hands down our best seller. It has the perfect balance of dough to fior di latte, fresh basil and the all-important drizzle of extra virgin olive oil. Second on the list are our traditional arancini balls stuffed with melted mozzarella and bolognese. The arancini offer an authentic taste of Italy and are the perfect antipasti to whet the appetite."
What makes an amazing pizza?
"Without a doubt, the secret to our pizza is the high quality ingredients – especially when it comes to the flour. The dough is so important when you make traditional Neapolitan pizza, as it's the hero of the dish. I also recommend making the dough the day before, because it gives it ample time to rise, and you also won't be pushed for time and can really perfect it.
When it comes to ingredients, never ever compromise, and never forget that one of the most important ingredients is always love!"
Italy has the world's best pizza - what have you adopted from Italy for 400 Gradi?
"400 Gradi adheres to the guidelines of the Associazione Verace Pizza Napoletana (the world authority on traditional Neapolitan pizza). I was actually the first ever Australian inducted into the AVPN and all of our menus and ingredients are planned and selected in line with these guidelines. We want to deliver the taste of Naples to every customer who walks through the door, and we do that by honouring tradition."
Why set up shop on The Parade, Norwood?
"The decision to open our oven doors in Adelaide had been in the pipeline for some time, but we wanted to ensure we could source the best local produce and wines to serve to our customers, as well as select a central location amongst Adelaide's atmospheric wine and dining scene. Norwood has such a lively vibe, so it was the ideal place to open 400 Gradi Adelaide."
Enjoy all-you-can-eat margherita pizza and drink as much as you like (from a five-drink list) on weekends between 4pm and 6pm for just $45 per head.