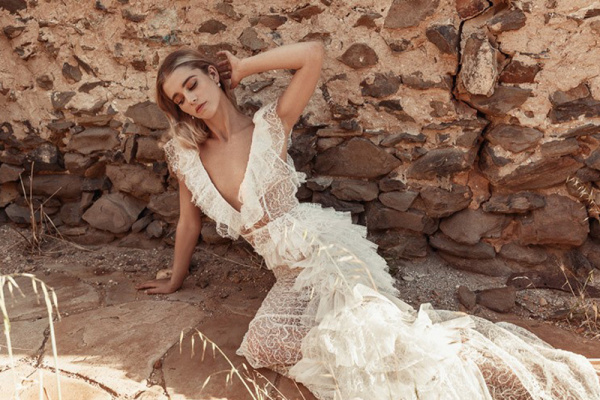 As a toddler, Cristina Tridente would design and make clothes for her Barbie dolls. Fascinated at how random fabric pieces came together, she would tinker with 'fashion design' for hours.
As an adult, Cristina has turned her creative flair and love of fashion into a career. After balancing jobs in retail, styling and merchandising alongside work experience in companies such as Zimmermann and Camilla and Marc, and completing a stint as Co-ordinator of the Adelaide Fashion Festival, Cristina started her label, couture+love+madness, in 2011.
"I've wanted to design ever since I was 5," Cristina tells us. "I would staple, glue and hand sew pieces together. I was very crafty as a child. My mum and I would also dry and press flowers, make cards and drawings together. Thankfully my craftsmanship has evolved since then!"
"couture+love+madness is something I've always wanted to do - make beautiful gowns for customers and celebrities. It's a very intimate and bespoke process. I get to know my clients well, as it's so personal and is often stretched across a few months."
Since then, Cristina has dressed celebrities including the likes of Dannii Minogue and Michala Banas, her work has appeared at Fashion Weeks around the globe, and she's now branched out to bridal.
But make no mistake; couture+love+madness is not about following trends. Instead, it's about feminine and romantic designs with a modern twist. Cristina's designs encapsulate a feminine colour palette, intricate details and ultimately embellished fabrics - something she is most inspired by.
"I will look at a fabric and almost instantly know what I'm going to make out of it. I love clean cuts with interesting, textured fabrics. I travel around the world sourcing my fabrics."
And now, this leading fashion label has set up shop on The Parade, Norwood. The new studio and shopfront, complete with a '50's Parisian vibe, houses Cristina's beautiful, bespoke creations including her new label Tridente, and promises a personal and unique experience.
"Our store in Norwood offers a new bridal experience. When you visit our shop, you speak directly to me, the designer. We discuss cuts, styles and fabrics. It's very bespoke and personal.
"We specialise in bridal, mother-of-the-bride/groom, red carpet and formal events and custom race wear. Everything is created on site in our Norwood studio. Once you've decided on a design, I take your measurements and create a pattern to fit your body shape. I then create a toile (first draft of your piece) and you'll have a fitting to make sure you're happy with how everything looks and feels before we create the real thing. It's a very collaborative process, I work one-on-one with the client to make sure this is the dress of their dreams for their special occasion."
couture+love+madness is open Fridays, Saturdays and by appointment.