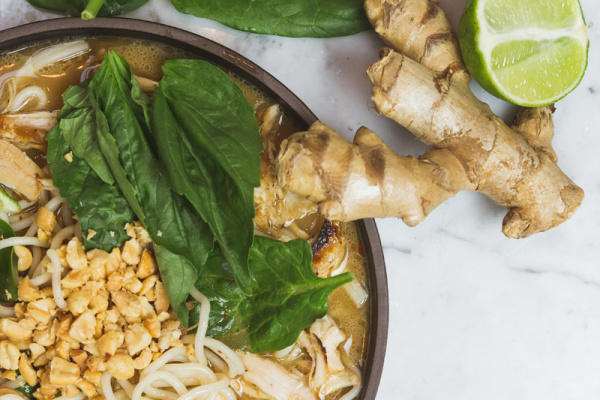 There are a few iconic eateries around Adelaide, and Parade Thai is one of them.
This family-owned eatery has been serving authentic Thai dishes to hungry locals since 1993, thanks to original owners Boonsri and Katima Pewkliang.
In true 'family run business' fashion, they even had their son Bunyaht working there for many years, before handing over the restaurant reigns to him and his wife, Gabrielle.
"Being the owner and the head chef, I was trained by the best – my parents. I learned how to cook all of my family's original recipes," Bunyaht tells us.
Since taking over his parent's restaurant, Bunyaht has rolled out a few new touches to Parade Thai, one being rejigging the menu to incorporate healthier options and to cater to vegans and people who are gluten intolerant.
While they still have popular dishes like the fried fish fillet in creamed red curry sauce and the pahd kra prow puck (vegetable medley), Bunyaht has added delicious dishes including Thai style mussels and grilled marinated pork neck and grilled Pandan chicken. Even new desserts feature like mango sticky rice and banana spring rolls.
"We're also planning on releasing a Thai inspired range of cocktails along with a new app to make take away orders even easier, with the view to extend to deliveries this spring," Bunyaht says.
Along with the new menu comes new digs. Recently moving a few doors down from 128 to 136 The Parade, Parade Thai now sports a fresh new look too.
"We moved in to the old Don's Tables restaurant. We have a contemporary look and feel and an alfresco area which will be great in summer," Bunyaht says.
New menu, new digs and lastly, a new logo (which pays homage to their roots) rounds out the takeover.
"Our new logo features our family home town attraction and a large wall size of Ayutthaya – which was capital of the kingdom of Siam," Bunyaht explains.
So what's next for Parade Thai?
"With deliveries and cocktails soon to be released more employment options will become available later on this year, so we plan to stimulate the local economy with jobs," Bunyaht concludes.
Do yourself a favour and get on down to Parade Thai.