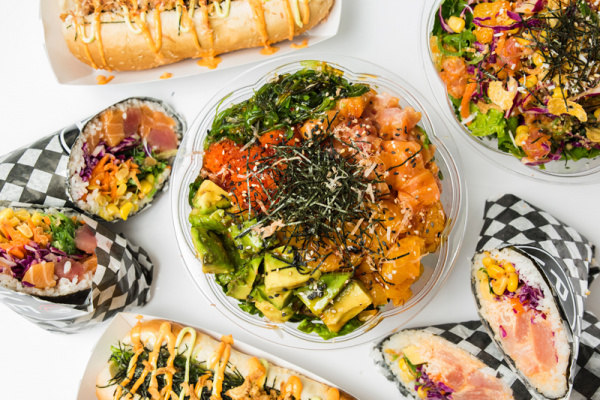 Before you bust out the soggy tomato, ham and cheese sandwiches to bring to work yet again, read on for the best lunches on the Parade – for next to nix. That's right, we've rounded up the best places for lunch under $12.
PASTA DELI
With a name like Pasta Deli, you can be sure their pasta is top notch. They also pedal other carb-y delights such as lasagne, pizza, paninis and antipasto. Hello winter comfort food!
And with a motto like, 'When the variety is so good, it makes choosing hard,' you really are spoilt for choice. There's the fresh pasta, pre-cooked fresh pasta meals and pasta sauces available to dine in or take home to reheat and eat. Antipasto pieces like ricotta balls, tuna croquettes and meatballs. Traditional Italian pizza authentically made with a range of toppings to choose from. Freshly baked paninis filled with the finest salumi, formaggio, chicken and salads. And much more!
"The Panini's are one of our most popular options – actually they are very popular at $6.90 as are our pizzas – also $6.90. And then we have our individual pasta packs and choice of 16 salads like pumpkin and bean, brown rice, Thai noodle, roasted vegetable, cous cous, quinoa and more. Both sizes are under $12," Pasta Deli manager Luke Francesca says.
"Not to mention our zeppolis – which are just $2.50 and rated as Adelaide's best zeppolis," he adds.
Whatever you choose, lunchtime is sorted!
PAVE CAFÉ
Pavé Cafe is a popular lunch haunt and rightly so, thanks to its delicious menu packed with breakfast, brunch and lunch options. Choose from muesli, granola, pancakes and waffles to roast veggie stacks, omelettes and smashed avocados. They even have toasties! And that's just for early lunch, er, brunch.
For lunch they have plenty of fresh rolls and soups for $12, a vegetarian basket and a range of piadinas featuring a range of fresh fillings. Delicious coffee and latte mixes such as turmeric or beetroot make for a nice addition with your lunch!
VDR
VDR is your go to for a quick 'grab and go' lunch. If you have a craving for Vietnamese, then visit VDR for tasty Vietnamese rolls (Banh Mi), noodle salad bowls, rice bowls, curry and spring rolls.
"Our best option for $12 and under is our $12 workers combo. In this you will receive a delicious pork, chicken or salt and pepper tofu Banh Mi, spring roll and a 375ml can of drink or 600ml water for $12," VDR manager Jun Huang tells us.
"Of course we have other options like our Banh Mi chicken or pork -$8, combo Bahn Mi for $9, bun bowl or rice bowl at $12 or our curry of the day which is also $12," he adds.
VD-Rrrrr so tasty!
YANNI'S YIROS
For the best yiros shop in Adelaide, it has to be Yanni's Yiros. For 26 years, Yanni's Yiros has been making mouth watering Greek food (all made fresh daily and on site) and a delicious range of other Greek cuisine. Cue: yiros' (lamb, chicken, combination, prawn, octopus and felafel), AB's and chips to lamb shaslicks, meat packs and moussaka. The secret to this family-run business' success?
"Everything is kept simple," Yanni's Yiros owner Vas tells us. "The ingredients we use to marinade our meat has been the same since day one – and it's a basic marinade of oregano and lemon juice. We can't tell you too much more about the marinade but they are the main ingredients."
And as the name might suggest, yiros seems to be the most popular choice on the menu.
"We specialise in lamb and chicken yiros," Vas concludes.