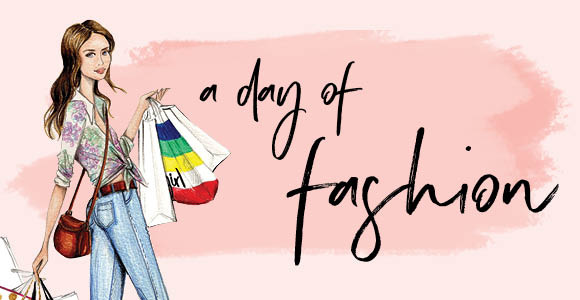 A Day of Fashion - Saturday 12 October 2019
OFFERS REVEALED
Bed Bath N' Table - 20% - 50% off storewide (excludes furniture, electrical and gift cards)
Birdcage Boutique - 20% off full priced items
Captivated Soul - 20% off storewide. Free gift with a purchase over $50. Drinks and nibbles in-store.
Denim & Cloth - 20% off storewide
Details Handbags - 20% off storewide (excludes already reduced items)
Dotti - see in-store for details
Eccola - 20% off fashion and fashion accessories (some exclusions apply) 15% off storewide
Elle & Elka - 10% off storewide
Gazman - 25% off for members or those who became a member on the day
Hanger Lane - 50% off one full price item (including new arrivals) 30% discount for the week following the event
Ian's Shoes for Women - 10% off full priced items
Jigsaw - 20% off storewide. Pre-booked complimentary styling sessions (enquire in-store). Door prize for BTF2K sign ups (mailing list). Nibble and non-alcoholic drinks
Jo Mercer - 20% off storewide (see in store for T&C's)
Love Affair Boutique - 20% off in-store
Lula Blu - $15 voucher on purchases over $50
MIMCO - 20% off full-priced collection (excludes limited edition, EFI, gift sets, one-of-a-kind jewellery and sale)
Norwood Place - exciting events and activities all day long
Outdoors on Parade - 20% off storewide. Sale continued on Monday 14 October
Paloma + Co - 20% off all items over $150
Peter Alexander - 40% off selected styles
Seed Heritage - 20% off full price styles (not in conjunction with any other offer)
Serafina Boutique - 20% off storewide, plus a further 20% off sale items (conditions apply)
Shouz - 20% off storewide (Norwood store only). Drinks and nibbles in-store
Sooki Boutique - see in store for details. Styling and makeup sessions (enquire in-store)
Specsavers - 50% off lens options. Specsavers Fashion Cart will be set up
Sportscraft - Save $50 for every $150 spend. Save $100 for every $300 spend. Save $200 for every $600 spend
Sportsgirl - 50% off already reduced items only
Sportspower Norwood - 20% off Running Bare. In-store giveaways and competition
Style Society Boutique - 20% off in-store
Trenery - 20% off storewide
Two Pairs Homewares - 15% off (clothing only)
Witchery - See in-store for details
A DAY OF FASHION
Calling all fashionistas. What do you do when a fun and fabulous fashion-filled event – A Day of Fashion – is happening on Saturday 12 October? You mark it in the diaries, of course. And tell your friends - because it'll be an event not to miss!
All participating east side retailers on Magill Road, The Parade, Kensington Road and Payneham Road will be celebrating all things fashion – which means discounts, in store experiences and most importantly, an open-air fashion showcase featuring some of the latest trends from iconic brands and unique boutiques, located on The Parade at the Norwood Town Hall.
And did we mention shopping? Any fashion lover worth her weight in material knows a new season is a good excuse to invest in a few key pieces. Whether it's an on trend number or a timeless classic, this event will be the perfect opportunity to shop for your spring wardrobe.
Better yet, Marie Kondo your wardrobe before hand (aka get rid of any clothes that don't spark joy anymore) and drop off your pre loved threads that can be worn again at the donation station at Norwood Place and they'll be given to op shops in NPSP.
But back to the in store experiences. Bendigo Bank, Norwood will be assisting you in your fashion business journey and dishing out banking tips and interesting insights to anyone studying fashion or wanting to start their own fashion label. couture+love+madness's leading designer Cristina Tridente will be presenting her new collection of stunning couture pieces – complete with champagne and cupcakes of course! Plus Yard Skincare will be offering a self-care experience with an eco-paraffin wax session, followed by a hand/forearm massage using adaptogen-infused products to help soothe aching joints and increase circulation.
Okay, it's official - A Day of Fashion is a day not to be missed.