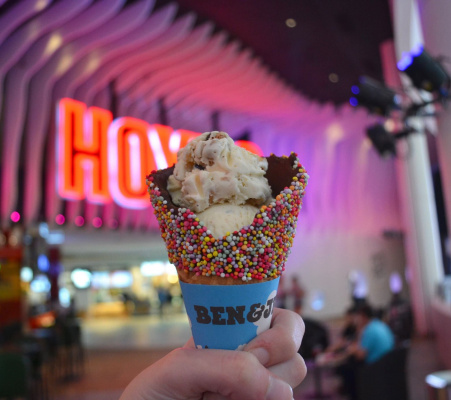 Free scoops, Fruchocs gelato and 3000 flavour combinations. Where to get the best ice cream on The Parade.
The long, hot days of summer are perfect for many things. Days at the beach, backyard barbecues and road trips, to name a few. And there's one thing all those activities have in common. They're all better with ice cream. Even as we tip into March, it's still perfect ice cream weather and there are plenty of ways to get your fix on The Parade – here are three of the best.
Gelatissimo Norwood
The folks at Gelatissimo have made it their mission to create the perfect gelato for every single customer. Their fresh gelato is made instore daily with no artificial colours or flavours, and with 32 options to choose from at any time (plus a few extra out the back), there's something for every occasion.
They've got dietaries covered with sugar free, gluten free, nut free and dairy free options. And along with refreshing vegan sorbets like lemon, passionfruit and sunkissed coconut, there's now a decadent range of creamy vegan gelato made with a blend of coconut and soy milk.
As Adelaide is in its busiest time of the year, there's also a special limited edition South Australian flavour to enjoy. Fruchocs Fringe blends choc-peach gelato with pieces of diced apricot and chocolate drizzle then adds single Fruchoc on top. It's only available during the Fringe, so get in before 15 March.
Cold Rock Ice Creamery
Sometimes choosing just one flavour is too hard. Fortunately, Cold Rock will never make you do that. Instead, you can start with the ice cream and add a combination of mix-ins like gummy bears, chocolate bars, cookies and other sweet treats. Then you can watch the staff smash them all together in front of you to create your own personalised flavour.
By the time you add up all the different ice cream, gelato and sorbet flavours with the mix-in options, there are over 3000 unique flavour combinations. But if you ever do manage to make it through all of them, you can be sure that they'll have some new options waiting for you at the end.
Ben & Jerry's at HOYTS Norwood
Ben & Jerry's is famous for making the chunkiest, swirliest, sweet and saltiest ice cream around. But there's another reason it tastes so good. The company is a certified B-Corp that raises money for local charities and uses Fair Trade ingredients including sugar, cocoa, vanilla, coffee and bananas.
You won't find choc tops at the HOYTS Norwood branch, but you can get chocolate-dipped cones and a range of toppings including peanuts, oreos and hundreds and thousands. Or for the ultimate treat, take on a Stuffed Cone that includes brownies and cookies at the bottom of the cone along with a hot fudge or caramel sauce.
Many of the 22 flavours are exclusive to scoop stores, including the sorbets, and there's no better time to try a new one that on Free Cone Day. Once a year in early autumn, one million free scoops are handed out around the world – keep an eye on their website to find out when it will be this year.