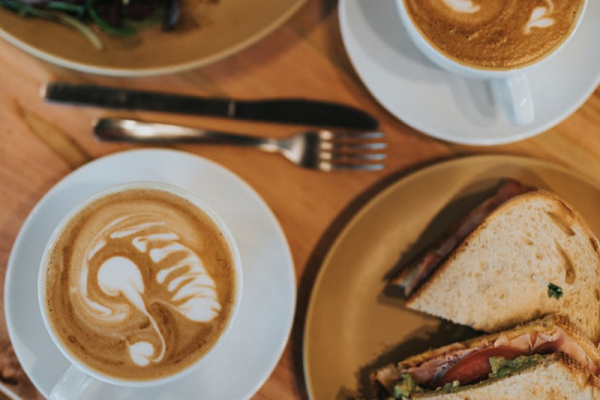 Takeaway and delivery options on The Parade so you can still enjoy good food while self-isolating.
As social distancing measures ramp up, it's important to look after yourself and protect others by following the latest recommendations. But even if you're self-isolating or in quarantine you can still enjoy a morning coffee or delicious meal at home (with a bottle of wine if you're ordering from a licenced restaurant). These local favourites are open for business, and many have contactless options available. If you're picking anything up in person, order ahead to ensure you're not waiting around.
Follow their Instagram and Facebook pages for regular updates, and you can find a non-exhaustive list of other local businesses that are still operating at 'Still Here'.
Pavé Cafe
The bicycle-filled courtyard may be empty but you can still roll by Pavé for a takeaway coffee, smoothie or sweet treat. Fresh muffins and cakes are baked daily, as are the famous Portuguese tarts.
The Grind
The shop door is shut for now, but the window is still open for takeaway coffees. And if you want to start making your own, a range of freshly ground specialty beans and compostable pods are also available to take home alongside percolators and plungers.
La Madeleine
The Parade's favourite patisserie is baking a range of quiches, croissants and cakes each day, and they've also started making sweet crepes on request. Pick up your takeaway order with a morning coffee or call Will on 0430 300 638 for free delivery of family-size items.
Bravo Norwood
This local institution is providing free coffees for all healthcare workers, but anyone can pick up takeaways coffees and cakes (including cannoli and raw vegan slices) in the mornings. When evening hits, a menu of pizza, pasta and salad is available takeaway or via Uber Eats, with an $8 discount covering the delivery fee.
Cinnamon Club
Cinnamon Club's kitchen is operating seven days a week, serving a range of north Indian favourites as well as Goan and south Indian specialties. Both takeaway and delivery are available (including a contact free option). Use the Cinnamon Club app for 25% off the first order.
European Cafe
A lot has changed in the Cavuoto family's 40 years in charge of The European Cafe, but they're still serving a huge range of pizzas and pastas alongside traditional Italian mains and desserts. All takeaway orders are 10% off (you can call ahead on 8431 2145), and deliveries are available through Uber Eats.
Argo On The Parade
As COVID-19 has changed the way we eat, Argo has been busy adapting. You can text 0452 144 174 for deliveries (free within a 1 km radius and $6 within 6km) and place takeaway orders at 8431 1387 or online at https://hal.best/Sfmu. New keto and vegan ready to heat meals are ready now, with immune boosting syrups and grocery options coming soon – details are available on their instagram.
Nordburger
Sometimes all you want is a burger and chips, in which case Nordburger has every base covered (including vegetarian options). There's also a range of shakes and buttermilk fried chicken options, all of which are available takeaway or delivery through Uber Eats.
Manto Cafe
From breakfast until (early) dinner Manto is still serving almost a full menu of fresh pasta, risotto, pizza, plus freezable dishes for later. The coffee machine is being kept busy, and there are breakfast and lunch specials. Order and pay over the phone (8331 0900) so you can minimise contact when you pick your order up.
Rain Modern Asian
Now open for dinner only, Rain's extensive menu of Thai and contemporary Asian cuisine is available for takeaway. Order and pay over the phone on 8332 7777 and you'll get 25% off the total bill (and maybe even some extra prawn crackers).
Stone's Throw
For the first time, Stone's Throw's share plates full of fresh local produce are available to eat at home. Order ahead on 7130 3366 and taste the newly-released Autumn menu, which includes a selection of cheeses to savour afterwards.
Pasta Deli
If you're planning ahead, Pasta Deli has a huge range of traditional home cooked Italian dishes plus 16 salad varieties. The pasta trays are all served cold but the fresh coffee and award-winning zeppole are ready straight away. Call 7078 0380 to place a takeaway order, or get it delivered to your door for $5.
Metropolitan Fresh Fruiterers
If you'd prefer to cook yourself but can't leave the house, Metropolitan have also started offering a delivery service for $5. As well as fresh fruit and vegetables, you can order essentials like milk, yoghurt, pasta and cheese. Simply email your order to norwood@metrofresh.com.au and it'll be delivered in their refrigerated van.