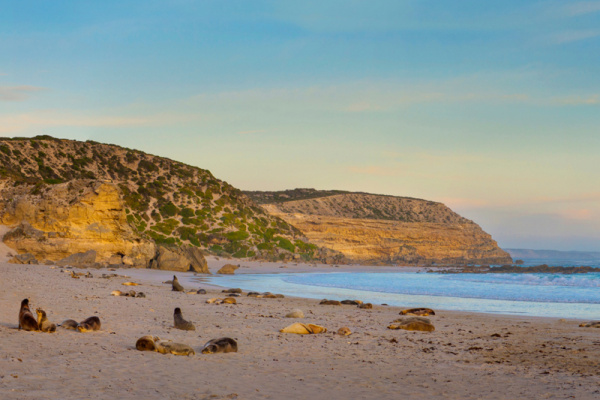 In two decades in the travel industry, Bek Daniels has never seen a year like 2020. Nobody has. "It's been challenging," she says, with considerable understatement. But rather than taking time off, she's been working furiously since travel restrictions were imposed.
As owners of Helloworld Travel Norwood, Bek and her partner Andy Sjoberg have been hard at work looking after clients whose travel plans have been impacted by COVID-19. All six staff are still working full time, something Bek says was never up for discussion. "We're a small business, we're privately owned and that's where we're different to many other travel agencies. This is our family, that's why we decided to keep everyone on."
They're still following up on cancellations and rebookings, but as restrictions ease the team is finally able to cast one eye to the future. With regional travel around South Australia given the all clear, Bek says she's starting to get enquiries from couples and families keen to explore their own state. She's worked with some clients to create individually tailored itineraries, and has also created a range of packages in partnership with other locally-owned small businesses.
With a team including employees from Brazil, the United States and India, Helloworld Travel Norwood usually provides advice to travellers heading far from home. "And there's nothing wrong with thinking about Bali or going to Greece," Andy says. But with so much uncertainty, any trips are likely to be some way off. "So while you're thinking about that, let's look at getting you a break right now."
Murray River
The Murray River is a playground in summer but in winter Australia's most famous waterway is far more dramatic. Mists roll off the river's glassy surface, towering cliffs glow in the early morning sun and abundant wildlife lazes on the banks of the meandering river.
The best way to take in the magnificent scenery is from the river itself, and the Proud Mary allows you to do just that. With four star accommodation, a maximum of 20 passengers and shore excursions exploring the region's natural and human history, a cruise on the Murray is a chance to relax and let your cares float away. Two and five night cruises leave during June and July, with prices starting at $550 per person.
Kangaroo Island
The western end of Kangaroo Island was devastated by bushfires at the end of last year, but you wouldn't know it when you disembark from the ferry at Penneshaw. The surrounding bush is still lush and green, while the views over the Backstairs Passage from nearby sea cliffs are nothing short of spectacular.
Three nights gives you plenty of time to explore iconic attractions like Seal Bay, and to indulge in a full day tour of the island's famous artisanal food and drink producers. With transport from Adelaide, the package starts at $685 per person and is available immediately.
Flinders Ranges
Only the bravest or most foolhardy travellers venture to the Flinders Ranges in summer. But in the cooler months, it's a destination that has the power to delight and amaze. Watch ancient ridgelines change colour as the sun sets, spot iconic yellow footed rock wallabies and lose yourself in the extraordinarily beautiful landscapes that inspired Hans Heysen (and many artists since).
Explore the incredible natural amphitheatre of Ikara (Wilpena Pound) and enjoy exclusive access to an extensive network of private walking trails nearby before retiring to a luxurious eco villa at Rawnsley Park Station. Two night packages are available from $459 per person with alternatives available for families or budget-conscious travellers.
Get in touch with the Helloworld Travel Norwood store and book your next getaway today.