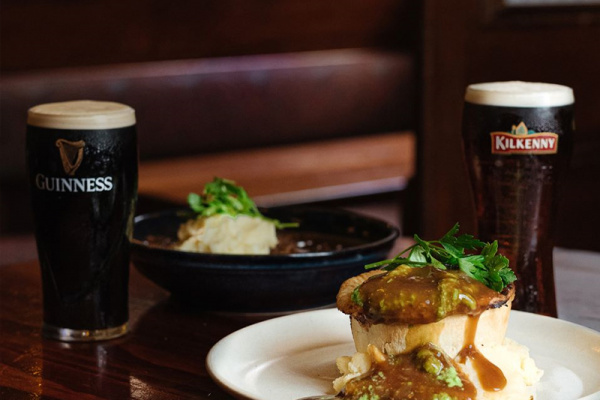 There's no better way to cure the winter blues than sitting beside a roaring fireplace with a nice cold beer. And with pubs once again opening their doors, there are plenty of spots on The Parade you can do exactly that. But your local drinking spots also offer much more, with enough mouth-watering food, pristine pool tables and live music to keep you coming back all winter.
This charming pub has been a Parade mainstay since it first opened in 1851, and today boasts an eclectic range of art on the walls and beautiful pressed copper ceilings. But while you might come for the quirky decor, you'll find yourself staying for the food. The kitchen is open for lunch and dinner every day, and the gluten intolerant head chef is used to catering for all comers. Rotating daily specials are joined by everything from snacks and small plates to seriously filling pub meals and fancier dishes with a modern Australian twist. Or pop in for brunch on the weekend with freshly squeezed juices and a special brekkie cocktail menu.
Behind the bar, the 16 taps are once again filling up with a strong emphasis on craft beer. The wine list features plenty of options from across the state (and further afield), while the back bar has a dazzling array of gins plus smaller sections like Japanese drinks and non-alcoholic spirits.
COVID-19 has completely altered the way many businesses operate, but there are some things that are non-negotiable. Finn McCool's will always have Kilkenny and Guinness on tap, and they're still pouring imperial pints for $8 all day. And it's not just iconic Irish beers that are back – you can also watch all the big games live with a pint in hand. The kitchen is dishing up a limited menu of pub standards (including kids options), with the seats inside reserved for diners from 12-2pm and 6-8pm.
Meanwhile, the function room of the heritage-listed Norwood Hotel is hosting the long awaited return of live music on weekends. Because the shows are seated there won't be any crowded dancefloors (for now), but that means the tickets are very limited so get in quick to secure a table.
Adelaide's oldest pool hall got a makeover late last year and the walls are now adorned with colourful murals of Cuban life riffing on the venue's name. More recently, several tables were removed to accommodate social distancing and the space has been divided into three separate areas.
The bar might be small, but it manages to fit in four taps along with a full list of bottled beer, wine and spirits, and players can bring food up from any of the nearby restaurants. Drinking isn't allowed at the game tables, but each area has a seated lounge where you can relax and enjoy a beverage between turns. Other measures include keeping all cues and balls behind the counter and sanitising them between each use so you can get the ball rolling again safely.
Behind the bluestone facade of this 1856 building lies a sleek, modern interior that has rightly made the Bath a local favourite. Inside, the heritage architecture is augmented by light touches like patterned tiles and dark marble bars. And with a fresh coat of paint and new carpets installed during lockdown, the venue has reopened looking better than ever.
There are currently two sittings of lunch and dinner from Thursday to Sunday, and they're proving popular so it's worth booking ahead to make sure you get a table. When you do, you'll find the kitchen turning out pub classics as well as wood-fired pizzas from Base bar next door. They're accompanied by a wine list that skews heavily South Australian, ten taps and a fridge full of craft beer options. And if you really want to celebrate, check out the decadent house cocktails like the sweet, creamy toblerone or the zingy pornstar margarita.