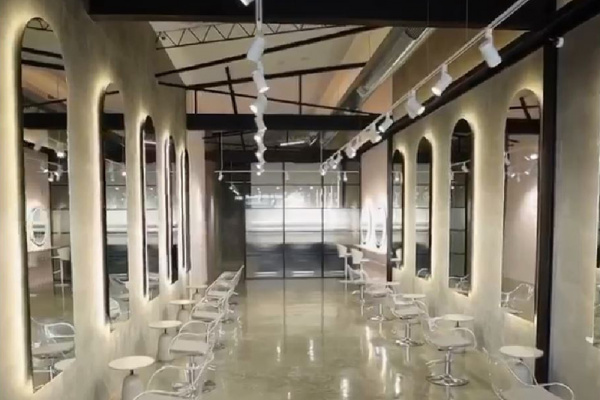 From sweeping up in the salon where his mother had her hair done to winning last year's L'Oréal Professionnel Colour Trophy, Massimo Tirimacco has seen every side of the hairdressing business. And winning the world's longest running hairdressing competition has inspired him to push his craft even further.
With his wife Madeleine (who has worked in make up for over a decade), he's turned Zohair into a fully integrated beauty and hair salon. The next step was creating a purpose-built facility where both aspects of the business had enough space to truly flourish.
It took years to find the right spot, but when the pair stumbled on the former site of the Norwood Squash Centre they knew they'd found their new home. "We couldn't find anything else like this space anywhere," Madeleine says. "We just kept coming back to it."
With the help of Spectra Design, they've transformed the site into an oasis of calm at the eastern end of The Parade Precinct. "We wanted a cool space, something that's open, minimal and relaxing," Madeleine says. The pair took inspiration from modern art galleries, so it's fitting that on entering your eyes are drawn to a powerful large scale portrait of a young woman. Created by acclaimed local artist Mariana Mezic, the typically colourful work was custom-made for the site and is the largest piece she has ever created.
The lofty ceilings create a sense of space throughout the salon and the exposed girders add an industrial touch, but it's the furnishings that really stand out. Each of the ten stations faces a towering arched mirror mounted on textured cement render walls that are stylish without being attention-grabbing. Behind a fluted glass partition, the beauty area has soft pink limewash walls and custom made front- and backlit mirrors that overlook basins with massage chairs.
Even with everything in place the salon is open and uncluttered, which is entirely intentional. "Our vibe is minimalism," says Massimo. "We want to have less clients, space them out more to give them some quality time. Service isn't something that can be rushed." To that end, they've installed a coffee bar and will offer clients wine, bubbles, beer or even scotch while they have their hair done.
As well as the L'Oréal range, Zohair will carry Shu Uemura products that are applied with a shiatsu massage as part of the calming treatment inspired by a Japanese tea ceremony. It's an offering Madeleine is particularly excited about, because it wasn't possible in their old location. "It needs to be quiet and relaxing as part of the service," she explains, "and now we have a custom-designed space where we can offer that."
Anther advantage of the new space is a dedicated beauty area where Madeleine can ply her craft. The fact that they can do hair and make up has made Zohair particularly popular with wedding parties – even before re-opening the calendar has plenty of bookings months in advance. It means things will be busy from the moment the doors open on July 1, and that's just the way Madeleine wants it. Looking around the space with evident pride, she says "it's been a long time getting to this point, but I'm so happy with what we've created."