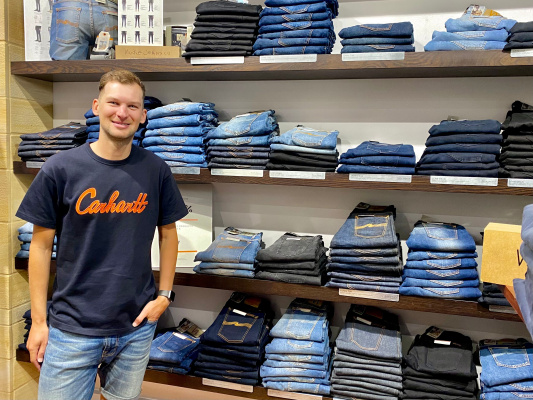 Walk into Denim + Cloth and you'd be forgiven for assuming it's a longstanding national chain. Part of the strip of clothing retailers lining the central part of The Parade, the stylish store is full of household names and emerging boutique brands in a huge array of styles and colours. But it is in fact a proudly South Australian company, with three stores spread around Adelaide and a growing online presence.
Specialising in streetwear that hits the sweet spot between fast fashion and formal wear, Denim + Cloth's mission is to create outfits that work just as well for a backyard barbecue as they do on a night out. Around two thirds of the space is dedicated to menswear with the other third given over to women's clothing.
Store manager Tom Timmins (who is also the menswear buyer) describes the range as "denim-inspired. We start with denim - that's the actual outfit - then we finish it off with accessories and shoes." And it's important to make sure there's a balance of well-known brands including Lee and Wrangler alongside smaller names like the 100% organic Nudie Jeans that come with a lifetime warranty.
"We pride ourselves on getting the good quality stuff from brands that you may not have heard of," he says. "So we like to find boutique brands to work with." And while there's obviously a broad range of denim, some of the lines Timmins is most excited about full under the "cloth" category.
"ORTC was started by two local boys who went to school just around the corner, they started with swimwear and resort wear but they're going into more boutique menswear now. And Vacay is another local company, they make resort wear inspired by beach destinations overseas." Both fit in perfectly with a look that Timmins is expecting to be big this summer: "oversized linen paired with colourful shorts for a real easy going, laid back look."
And on the ultimate question – is double denim ever acceptable? - Timmins has a simple answer. "I like it. I'll do a denim jacket with ripped black denim jeans because I dig that style. But I couldn't do matching denim."