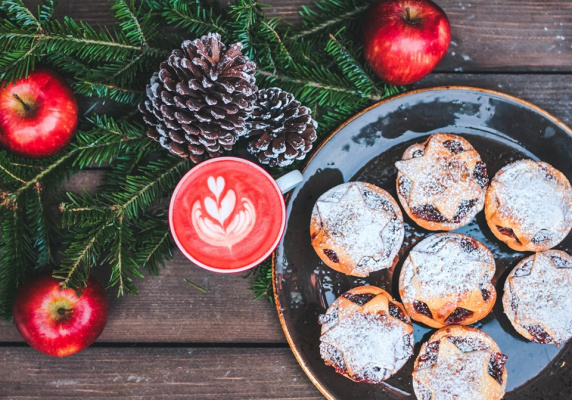 For Eating
By far the simplest spot to get your Christmas food shopping done in one easy hit, Norwood Place has a butcher, fishmonger, greengrocer, bakery and supermarket all within a 30 second stroll. And best of all, it's easy to get everything you need delivered.
As well as fresh loaves and rolls, the racks at Baker's Delight are laden with mince pies, Christmas cakes and seasonal sweet treats like lemon tarts and choc cherry brownie cakes, all baked fresh every day.
Bos Taurus Butchery has a huge range of specialty Christmas products, from legs of ham to cuts of lamb, beef and even whole pheasants for roasting. Orders close December 17 and can be placed instore, over the phone or via email.
With Spencer Gulf prawns, Coffin Bay oysters, and lobsters from Yorke Peninsula and Robe, Seafood on Parade knows how to celebrate a South Australian Christmas in style. Pre-orders for lobsters, whole fish and five dozen or more oysters can be placed by December 17.
The aisles at Metro Fresh Norwood are filled with seasonal delights like cherries, stone fruit and mangoes, as well as plenty of prepared foods including Italian biscuits and cakes, cheese and pasta. And best of all, they deliver to your door in a refrigerated van, along with produce from Bos Taurus Butchery, Seafood on Parade and Baker's Delight – simply call or visit the website to place an order for same day delivery.
For Drinking
One trip to Parade Cellars is enough to make sure the table is filled with something for everyone, from local wine to imported champagne and unbeatable specials like Hardy's Sir James Brut de Brut for $7.35 (it's even cheaper in a mixed half dozen!). There's also plenty of craft beer and hundreds of different spirits including spiced Christmas gins from Four Pillars and Prohibition that make perfect after lunch tipples.
For Giving
From small gifts and decorations to seriously special presents, you'll find everything you need at Eccola, Bauhaus and A Trip To The Moon. Head to Outdoors On Parade and they'll even provide a free gift wrapping service. And if you're still trying to find the perfect something, check out this convenient list of gift ideas for inspiration.