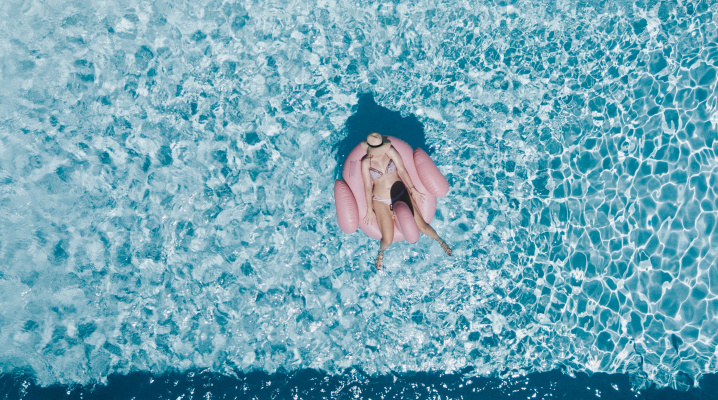 There's no better way to cool off once summer hits than to spend a day relaxing by the water. And fortunately you don't need to go far. Both the Payneham Memorial and Norwood Swimming Centres are currently open for recreation as well as laps and swimming lessons – just remember to book ahead to make sure there's space. That's especially important when there are special events like Payneham's Friday Nights at the Pool on 12 February, with live music, an inflatable obstacle course and a snack and drink included in the $5 entry. For kids still building up their swimming skills, lessons are available at both pools several times a week.
Whether you're headed to the pool, the beach or even up the river this Australia Day, it's important to look and feel good while you're in the water (and once you've hopped out). So we've collected some tips from across The Parade, including the latest styles and accessories that make a day on the water even better. And no matter where you're swimming, make sure you stay sunsmart so you can enjoy the whole summer.
Look Good
Denim + Cloth store manager Tom Timmins has seen a strong move to loud, colourful designs and bright patterns over the last few years. Where men's swimwear once took its cues from surf culture with knee length boardies, this year it's all about sophisticated resort wear. "That means the fits are a bit shorter and they're coming above the knee which makes them more stylish and versatile. Basically they're shorts you can walk around in every day, with the luxury that you can also wear them in the water." He particularly loves two local brands, Vacay and ORTC, with the latter's Torquay, Port Willunga and Port Elliot styles inspired by iconic Australian beaches.
In womens' swimwear, Timmins is seeing some more risqué cuts become increasingly popular. "People are showing a bit more cheek than usual this year," he says. "So it's a good time to look out for high rise styles that hide more of the upper body but really show off the lower body."
Feel Good
The exclusive Sant and Abel swimwear might grab your eye, especially the summery blue and white striped shorts, bikinis and one pieces adorned with vibrant lemon prints. But it's the accessories at Outdoors On Parade that help make a day out memorable for all the right reasons. Stripes are always in style for beach towels, and a range of candy coloured options makes them more fun than they've ever been. Beach umbrellas and wooden games help keep everyone comfortable and entertained all day long, as will the outdoor unbreakable wine glasses.