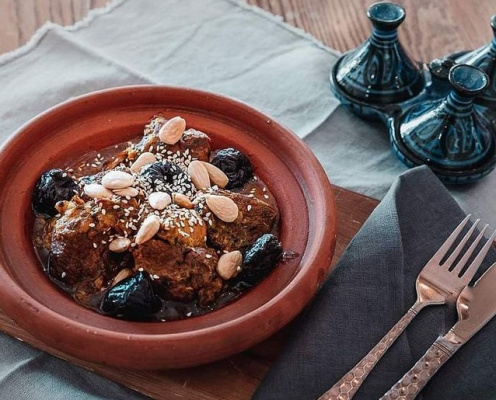 When Inside Morocco first opened thirteen years ago, it dealt exclusively in Moroccan homewares. But it soon became clear that customers also wanted a more immersive experience so the store began branching into events and erecting elaborate Moroccan tents filled with colourful rugs and cushions.
Soon a catering arm was added and people enjoyed the food so much they began asking where they could get it outside of those events. Eventually, those calls grew persistent enough that the store closed for renovations and reopened with a kitchen.
Now co-owner Mohamed Ghanmi (known to friends, customers and neighbours as Med) helps prepare dinner three nights a week along with breakfast and lunch from Tuesday through Sunday. Lunch and breakfast are a mix of Australian brunch classics and Moroccan dishes like sizzling pots of shakshouka and salads spiced with sumac and harissa, all served with aromatic mint tea. But for dinner, it's 100% Moroccan.
Traditional dishes like couscous and bastilla (a sweet and savoury chicken pie with toasted almonds, spices and rose water) feature on the menu but the most popular items by far are the tajines, slow cooked stews named after the clay pots with conical lids in which they're cooked and served. From Thursday to Saturday Ghanmi starts cooking at 10 in the morning so the servings of succulent chicken thighs with preserved lemon, saffron and olives and tender lamb with prunes, cinnamon, almonds and sesame seeds are ready for dinner.
And it's not just in the kitchen that Moroccan culture reigns supreme. Lining the walls of the "cafe gallery" are bright red textiles decorated with slivers of mirror, latticed wooden screens and good luck charms. Elaborate wrought iron and colourful stained glass light fittings hang from the ceiling and shelves are filled with colourful ceramics, teapots and richly detailed tiles.
Hailing from Safi, Marrakesh, Essaouira, Fez and Ghanmi's native Atlas Mountains, these handmade pieces represent every region of Morocco. And it's all for sale; if diners see a piece they like on the wall (or even under their plate), they can take it home with them.
Difficulties with imports over the last year mean there is currently a bit more space on the walls than usual, but Ghanmi is hoping that shipments will recommence soon. In the meantime, he's focussing on the food side of the business and already hosting more frequent private functions throughout the week with a permanent liquor licence on the way soon. It is, he says, just another step in the continuing evolution of Inside Morocco.