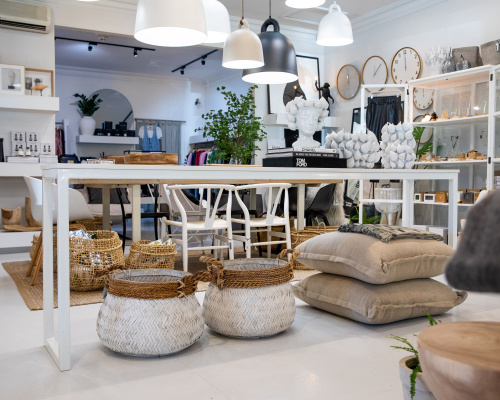 Over the past few years, the growing collection of homewares shops near the intersection of Osmond Terrace and Magill Road has developed into a thriving design hub. A range of stores within easy walking distance like twopairs, Asser & Co, Flourish and Outside Square complement each other by offering a range of styles to suit every home and budget. We asked each of them for their best tips when decorating your house.
Choose a neutral palette
Since launching a decade ago, twopairs has expanded from a small hole in the wall to a spacious showroom spanning three properties thanks to a simple philosophy. Owner Christina Moulton only stocks furniture, fashion, jewellery and accessories that she personally loves, and makes sure to maximise each piece's versatility by sticking to a light, neutral palette.
"The beauty of a neutral palette is it can stay as is, stunning and simple, or it can make the perfect foundation for pops of colour," says Moulton. "Whatever suits your style best!"
Aim For Harmony
"When investing in interior products for your home, make sure you focus on a balanced scheme that harmonises with your existing finishes and fixtures," says Asser & Co director Rachel Bartels. With a wealth of industry knowledge and a background in design and styling, her team can help you choose pieces that will create unique, warm and inviting spaces for your family.
Their carefully curated selection of Scandinavian and Australian items like the Ferm LIVING Desert Chair celebrate natural, organic and sustainable materials that are essential elements in today's focus towards greener and healthier living.
Don't Be A Slave To Trends
"The most common mistake people make is they follow trends, which means they date their home," says Angela Gianakis, owner of award winning interior design company Outside Square. Her solution? "The secret to clever design is to personalise a trend so that your home reflects you."
Instagram and decorating magazines should offer inspiration rather than a rigid template, and her showroom functions in the same way. "It's literally a place for people to get ideas, then we can go on a journey with clients to find what's right for them."
Make Your Own Rules
An Aladdin's cave of colourful, richly textured treasures designed to make you smile, Flourish is proof that you don't need to stick to one particular style or trend. "A unique home will always have more soul," says Stepney store manager Lily Chester. "We say fill your home with pieces that you love, which bring you happiness and make your heart sing!"
To that end, she's curated a colourful space where you can tap into your creativity and find unique pieces that are both beautiful and ethical to fill your home with feel good vibes.