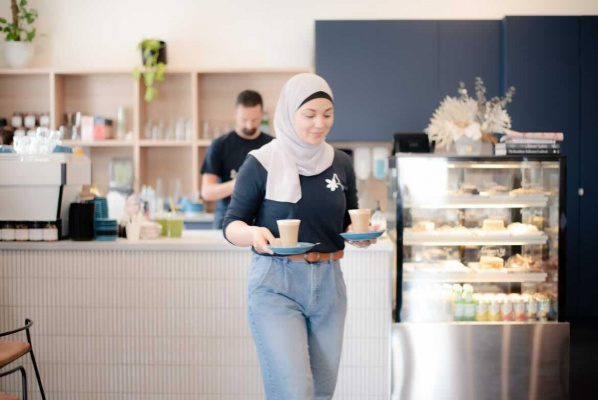 When much loved cafe Saha finally reopened on Magill Road at the end of January, it was the culmination of a long journey. Before the dramas that defined 2020 had even begun, owners Jinan and Abdoullah Mehio saw their cafe on The Parade in Beulah Park go up in flames. "A few days later the bushfires broke out," Jinan recalls, "then two months later Covid hit".
And despite planning to reopen on the existing site, the Mehios eventually had to look for a new home at the worst possible time. "Every site we were looking at was either too small, too big or we couldn't do what we wanted there," she says. Fortunately, the owner of design studio Ferguson George heard about their plight and reached out.
Mark Jones was a regular customer when Saha was on The Parade and had a beautiful property he'd been restoring for several years that proved perfect. And because the old stools and chairs were the only things to survive the fire he also helped to furnish the new site, designing fittings including the gorgeous honey-coloured American oak tabletops.
Jinan made "a huge effort" to source other features from Magill Road, so don't be surprised to see mirrors from Willie Stewart Interiors, pendant lighting from Twopairs and plants from Botanica boutique. And while the last site had room for pilates and yoga, the slightly smaller premises mean she is now collaborating with local gyms Roaming Zen and KX Pilates to offer deals for customers.
It's all part of a holistic approach that defines the cafe. Saha means "health" in Arabic and wholesome choices abound on the menu of colourful brunch classics with a Lebanese twist, fresh juices and blended house teas.
Since reopening, Jinan has seen many of her old school pals from Norwood Morialta coming through, along with customers she first got to know when she opened The Little Eastern further up Magill Road in St Morris.
"It's so beautiful for us to return because it's where we started," she says. "I grew up in Magill; back when we were born, Abs' parents had a shop up on Magill Road and my parents had a deli on St Bernards Road in Magill. There's just something about Magill Road, it has this charm and quirkiness to it. I love it and I'm so happy to be back in this community."