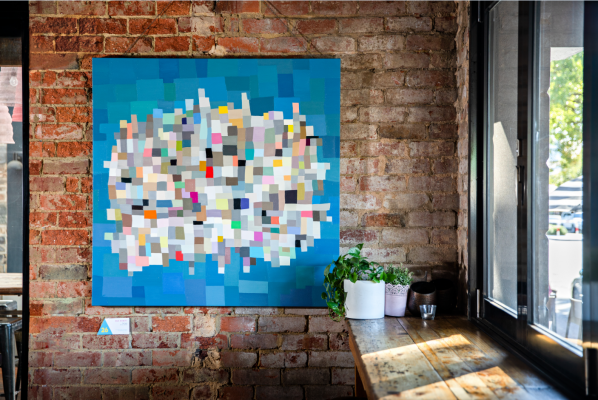 The Parade has always been a buzzing food and shopping precinct, with cafes, boutiques and speciality stores that make it a natural meeting point. And for the entire month of April, Art on Parade will transform Adelaide's premier main street into a giant artistic community.
Since 2018, Art on Parade has been Norwood's largest free art exhibition and after the forced cancellation of last year's event, this year it brings together more than 20 artists and venues across The Parade. For local artists, who need our support now more than ever after an incredibly challenging twelve months, it couldn't come at a better time.
The self-guided trail links original sculptures, paintings, drawings and photographic works by talented South Australian artists, many of whom live or work in the City of Norwood Payneham & St Peters, and throughout the month of April, these contemporary artworks will be on display in windows and on walls of local businesses and in outdoor spaces around The Parade.
Art on Parade curator Evy Moschakis has carefully selected pieces that suit local traders, working hard to find "an affinity between the artwork and the venue." At Norwood Mall's Hanger Lane boutique, for instance, Trish Kerwood works in owner Bettina Melick's favourite art form of collage to create her playful "Vintage Ladies".
Other standout works include Janine Dello's penetrating portraits of modern women hanging in Orbe and OV Hair, Robyn Bronham's striking charcoal, pastel and acrylic animal portraits in Betta Home Furnishings and the mesmerising works of Nikki Carrabetta-Baugh on display at The Colonist. A self-described "urban Aboriginal artist", her dot art fuses traditional styles with a broad range of contemporary media and techniques that reflect both her traditional upbringing in the Northern Territory and her current home in Adelaide.
Whatever type of art you're drawn to, Art on Parade is the perfect opportunity to spark your creativity and discover a new favourite artist (or business). And because most works will be for sale, it's easy to support local artists.
"We weren't able to run Art on Parade last year due to Covid," Moschakis says, which means it's all the more important to celebrate while we can. "Things aren't completely back to normal, but this year's event will be another way to help the community heal after a very difficult year."
If you would like to be involved in the 2022 event and showcase your artwork, please get in touch with the Council's Events Unit at events@npsp.sa.gov.au