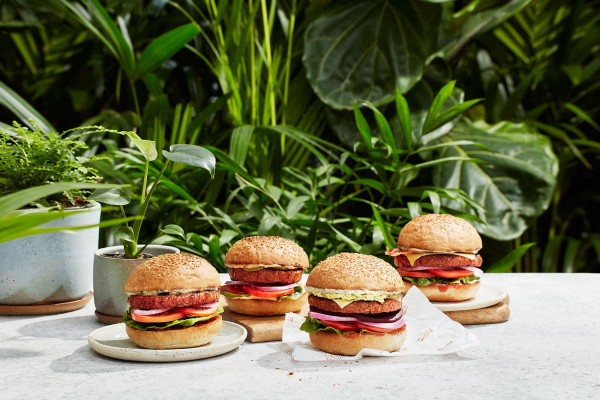 Once scorned as fast food, over the last few years the humble burger has been elevated to an art form. From no frills classics to next level creations piled high with extra ingredients, it's possible to construct an entire menu from this versatile favourite. And no matter your preferred filling, you can find the right burger to satisfy any craving on The Parade.
Best Vegetarian Burger: Grill'd
Healthier burgers are the specialty here, with fresh ingredients delivered to the store every morning and low sugar buns packed with veggies and lean, grass fed beef. But it's the plant-based options that make Grill'd really stand out. Any item on their menu can be made with a veggie pattie, grilled field mushroom or juicy Beyond Meat patty designed to replicate the taste and feel of meat. And thanks to the Meat-Free Monday promotion, you can start your week off right with a two for one deal on all plant-based burgers.
Chicken Burger: CnB
This brand new fried chicken and burger joint (the name stands for Chicken n Burgers) takes Korean fried chicken so seriously the chef flew to Seoul to perfect his technique. Lighter and less greasy than American-style buttermilk fried chicken, it also has an almighty satisfying crunch. CnB's burgers start with freshly cooked pieces of perfectly fried chicken then add finely sliced onion, crisp lettuce and a choice of signature or hot & spicy sauce that pairs perfectly with the imported Korean beers on offer.
Best Beef Burger: Nordburger
There's nothing complicated about the burgers at this classic American inspired diner, but everything is done to perfection. Pull up a stool at the counter and watch thick, juicy patties of coarsely ground beef sizzling on the grill before they're slapped between a soft brioche bun and topped with pickles, American cheese and the special Nord sauce. If you've got a serious hunger, upgrade to supersized creations like the towering Royale or Big Kahuna (and clean up at the dedicated handwashing station when you're done).
Best Lamb Burger: The Colonist
Just like its quirky interior, The Colonist's menu is full of pub classics with a twist and their lamb burger is no exception. Everything is made in house, from pickled beetroot to tomato relish and ground South Australian lamb shoulder that gets an added kick from garlic, thyme, salt, pepper and a handful of secret spices. Set atop a smear of tzatziki in a light, fluffy scotch bap, it's a surefire winner.