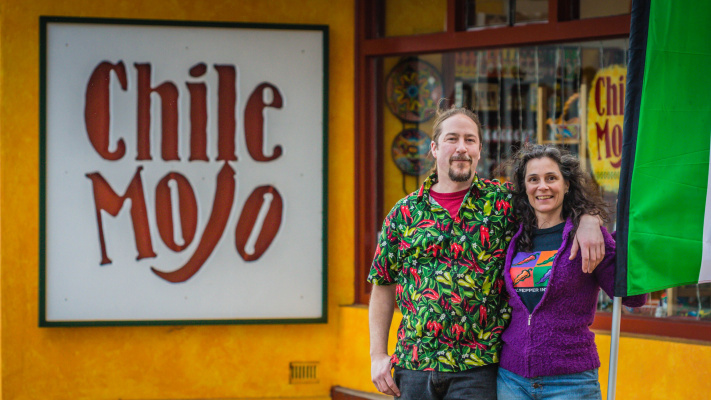 Morgen Britt admits that stepping into Chile Mojo can be "overwhelming" for first time customers. The vibrantly coloured store, which specialises in hard to find essentials for Mexican cooking and other chile-related products, is perhaps most famous for carrying Australia's largest collection of hot sauces. The current count is 750, she says, "and that's not including marinades, wing or BBQ sauces."
The key to finding the right one for you is to first ask yourself a few simple questions. "Start by working out what heat level is comfortable for you and then whether you might like a sauce that is smoky or fruity, chunky or vinegary. And because the key to keeping life interesting is variety, why not try something you've not even considered before?"
In addition to the mindbending array of hot sauces, Chile Mojo also carries a range of Mexican ingredients and pre-mixed cooking kits. Britt's partner Joel has created a range of 20 different seasoning blends, dip mixes and bean kits to speed things up in the kitchen if you don't want to start from scratch.
And asked if Chile Mojo stocks any products not available elsewhere in Adelaide (or even Australia), Morgen's response is an emphatic "hell yeah!" It is, she says, the very reason the store exists – she and Joel started it for "selfish reasons... we wanted these products and they weren't easy to find". And even as some ingredients have become more mainstream, Chile Mojo has continued to expand its range and still stocks plenty of specialty items that supermarkets will "never be brave enough to carry".
Morgen's Top Tips For Cooking With Chile
Chiles Aren't Always Hot
One of THE most popular chiles in Mexican cooking is the ancho, sometimes called 'the workhorse of the Mexican kitchen', and it has almost no heat whatsoever. Mexican recipes will often use three or four different types of chile in one dish but that doesn't mean it will be hot. All the chiles have a different taste and together they bring a complexity of flavour to a meal.
Toast Your Dried Chiles
Mexican cooking uses a lot of dried chiles. Always start by toasting them lightly with direct heat to bring forth a beautiful pungent character; you can use a pan on the stove, the oven, a pre-warmed BBQ or even 6-10 seconds in an air fryer. Do the same when using whole seed spices, which are inherently superior to ready-powdered.
Combat the Heat
Even die-hard chile-heads can on occasion surpass their threshold of chile pepper pain tolerance. Apart from time, the best remedy is dairy because the casein protein in milk, yogurt or cheese clings to the capsaicin molecule from the chile and prevents it from harassing your pain receptors. Spirits-strength alcohol will also loosen the oil-based capsaicin's grip but water or beer will only provide temporary cooling.