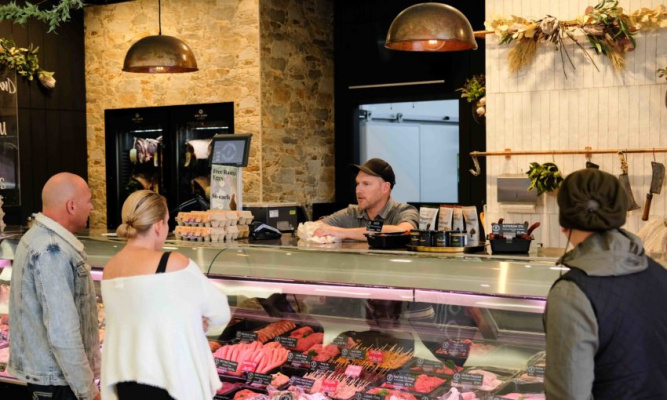 When owner John O'Connell started Bos Taurus Butchery two years ago, he began by making a few changes to the existing store in Norwood Place. The first was to add a rail so he could bring whole animals in and break them down. Because he only has a small coolroom to work with, he gets fresh meat delivered every day of the week and though "it's very labour intensive and old school" to do all the butchering onsite, "you get a much better product, and the customers notice that."
The other major change was to add a large dry ageing fridge. "I was a bit nervous about that because it's a big investment and I knew I'd need to sell a lot of meat" he admits. "But as it turned out we could have done it three times over – whenever the new dry aged steaks are ready, we sell out in a few days."
The purpose-built dry ageing fridge provides a controlled, clean environment for the steaks to hang. As they age they slowly lose moisture, concentrating the flavour while muscle fibres and connective tissue break down to create a noticeably more tender cut of meat.
When they're ready, John trims the desiccated edges off to reveal the tender meat inside and cuts that down into steaks. "We can only fit eight full racks of beef in there so we make them available on Thursday and we're generally sold out by Sunday lunchtime," he says. "A lot of people who really like their steak barely even look at anything else now."
John's tips for the perfect steak
Be Patient
When you're choosing a dry aged steak, you want it to look fresh but not absolutely bright red because that means it hasn't hung long enough. We generally give the T-bones about three weeks and the rib eye steaks six weeks
Let It Rest
The best thing you can possibly do when you're cooking a steak at home is to bring it to room temperature before you put it in the pan. When the meat's cold, it's actually tense but it only takes half an hour for the muscles to relax and it will slowly expand as it comes to room temperature which will make it more tender.
Finish It In The Oven
Because they're so thick the best way to cook one of our rib eyes is to give it a hard sear in the pan for two minutes on either side to seal the juices in then pop it into the oven for fifteen minutes to cook all the way through and slice it into strips when you're serving.
Bos Taurus Butchery is offering home deliveries in conjunction with Metro Fresh and Seafood on Parade – place your order on 7130 0213 by midday for same day delivery