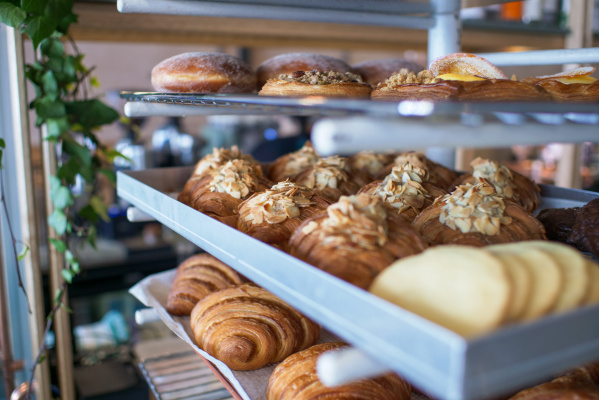 The Adelaide Hills farm that Alex Smith and Rik Fisher bought four years ago has left its mark on every aspect of their new cafe/ bar/ restaurant. Most obviously the size of the property gave 30 Acres its name, and the 500 fruit trees provide a fruit salad of cherries, peaches, apples and figs for the pastries that are baked in house each morning.
But look on the white marble tables and you'll also find custom-made ceramics that were fired with leaves from those trees so that each has its own unique char marks. It shows how literally the pair is taking farm to table dining at 30 Acres.
The 150 seat venue has a u-shaped bar at the front and display cases filled with colourful danishes, muffins and cakes are surrounded by booth and bench seating on either side. Head towards the back and it turns into a restaurant that looks into a large open kitchen with a double charcoal grill and giant steel pizza oven. But, says Rik, "we're not making pizza". Instead the oven used for slow cooked meat and vegetables as well as baked goods like Portuguese tarts, sourdough loaves and "an amazing fruit loaf with local dried fruits" that customers can take home.
Fruit, herbs, berries and vegetables from Alex and Rik's farm feature heavily on a menu that uses exclusive South ingredients, down to the pot of Olsson's redgum smoked salt on every table, with "as much small farm produce as we can source." That means the menu is highly seasonal and constantly evolving, but has room for every type of diner.
Breakfasts range from porridge with oven-roasted pineapple, labneh and coffee syrup to eggs benedict on a housemade crumpet and a blueberry and buttermilk "breakfast cake" while lunches are designed so they can be ordered individually or shared.
Reducing waste and minimising food miles are important, but so is running an establishment that's approachable. As a result the environment is warm and friendly, and the dishes surprisingly affordable. But what's most striking about 30 Acres is how versatile the space is. Whether it's a morning coffee or an evening wine, it's an easy meeting spot for everything from family gatherings to first dates and soon dinner will be added to the offering.
But if there's one dish that encapsulates Alex and Rik's approach to food, it's the humble ham and cheese croissant. Making the croissants from scratch is an elaborate three day process using only South Australian flour and butter before they're packed full of Skara ham and Section 28's award-winning Monforte cheese, both from the Adelaide Hills. The result is both delicious and accessible, and showcases the 30 Acres philosophy of combining the finest local produce with culinary influences from across the globe.