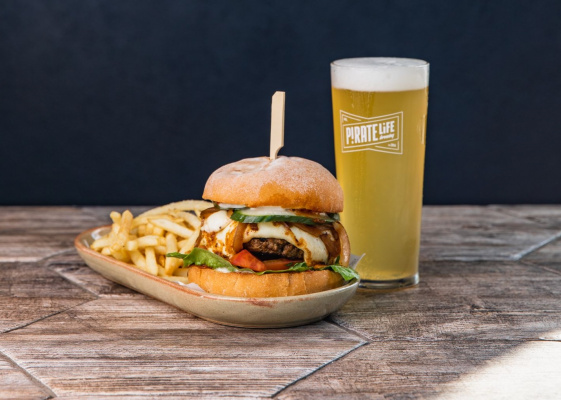 Whether you enjoy lazing in the sun with a super smooth session ale or sitting by the fire with an OTT pastry stout, there's never been a more exciting time to be a beer drinker. Craft beers are everywhere, and on Magill Road you can something to sate every craving - here are four of the best spots to head for a cleansing ale.
The Maid, 1 Magill Rd, Stepney
Right at the head of Magill Road, The Maid has far more going for it than just location. Half of the 15 beer taps inside are dedicated to craft beers with limited edition brews from interstate and even overseas regularly on pour. In the fridge you'll find even more options, with a dizzying array of 50 beers running the spectrum from face-squishing sours to hazy hop bombs and supersized stouts. Learn how they're made at one of the regular craft beer dinners that invite brewers into the pub for a multi-course dinner paired with fresh brews.
Fine and Fettle, 4/57 Magill Rd, Stepney
Light, zingy Asian flavours dominate the menu at Fine and Fettle, where time-honoured classics and breakfast bibimbap are equally at home. Lunch brings aromatic, richly spiced dishes like shredded duck salad and twice cooked lamb ribs that sing out for a craft beer accompaniment, which comes in the form of several Mismatch offerings like the easy drinking session ale.
The Alma, 66 Magill Rd, Norwood
The half a dozen craft taps at The Alma rotate regularly, but two of them will always be pouring Balter and it's easy to see why the ultra smooth XPA is a staple. Expect other well-known names like Stone & Wood, Pirate Life and Mismatch on tap, while the carefully chosen list of 15 packaged beers has room for seasonal and limited edition releases as well as evergreen options from smaller breweries. Both fly off the shelfs on Tinnie Thursdays, when craft tins are $6 all day long, making it the perfect night to settle into one of the comfortable booths for a generous feed of elevated pub grub with a surprisingly extensive plant-based menu.
Republic, 120 Magill Rd, Norwood
Head into the stylish bar at Republic and you might find anything from Little Bang beers made just minutes away to seriously limited edition interstate collaborations on pour. If you want to try them all, the giant beer garden hosts AFL games with a siren to siren craft beer package for $65. An emphasis on products that can't be found anywhere else carries through to the 30 odd packaged beers that are updated on a weekly basis to make sure there are always plenty of juicy hazies, milkshake beers and stouts (just about anything except lagers, really).