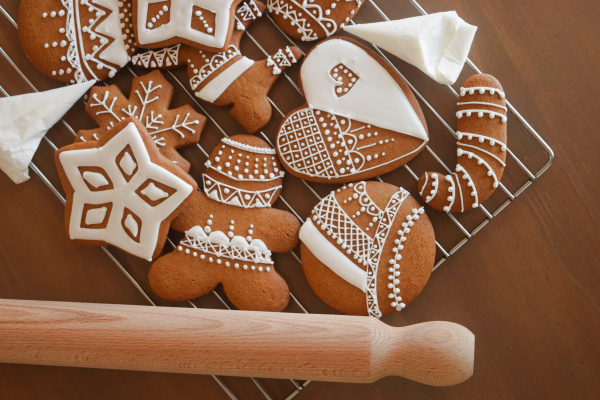 The Christmas season starts at different times for everyone, but for Sucre Patisserie owner Keva Freeman it never truly ends. That's because the 39 year old, who has two decades' experience as a pastry chef in Australia, France, England and Ireland, is preparing her famous Christmas puddings almost year round.
"I soak all the fruit in St Agnes brandy for three months minimum, and for up to a year in some cases before I steam bake the pudding" she explains. Unsurprisingly the results are "very rich and boozy -I find at the end of Christmas lunch a small serve is enough!"
Because the fruit has to soak for so long there's a strictly limited number of puddings available each year, which means you'll need to order ahead of time if you want to get your hands on one. "I've already allocated the fruit to the puddings so whatever is available in the online store is what's there," Freeman says.
Fortunately for those who miss out, there are plenty of other holiday treats that can be prepared far more quickly and make wonderful last minute additions to the Christmas table – think mince pies, gingerbread men, even Christmas-themed macarons and eclairs, all made from scratch. But the most eye-catching dessert of all is one that Freeman encountered while working in Paris.
"The bûche de Noël is a traditional French Christmas cake in a log shape with loads of different layers of mousse, fruit and a sponge filling that's encased in chocolate and decorated," she explains. And because our Christmas is a far cry from the winter holiday the dessert was designed for, she also has a less traditional option with lemongrass mousse wrapped in a lime and coconut pavlova and topped with fresh vanilla Chantilly cream.
And if you want to make something yourself, Freeman shares her decades of expertise in special small group classes with no more than six students. She puts those classes on hold during December because she's so busy with Christmas orders but there's one Christmas Gingerbread Decorating class left on November 27 that will reveal the secrets of how to roll, cut and bake the dough before students make their own royal icing and add lace-like filigree decorations. Guests can then take the recipes and a box of goodies they've made home for the ultimate personalised present.
Sucre Patisserie is accepting Christmas orders now, with pick up from the St. Morris shop front available on Christmas Eve.