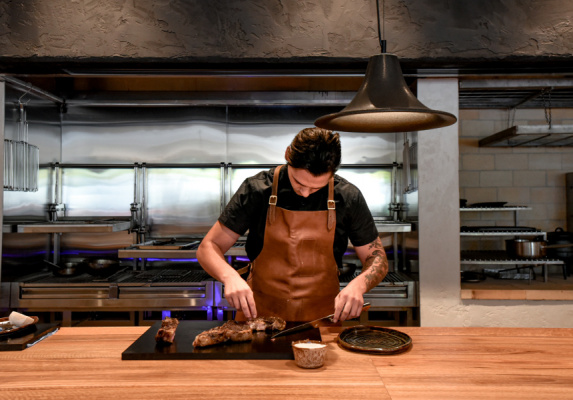 If there's one thing you need to know about arkhé, the new restaurant that just opened in the former Stone's Throw site, it's that fire and smoke are central to every aspect of the offering (even the desserts). "Every dish has some sort of fire element, "says head chef Jake Kellie, "even if it's something delicate like tuna that's cold smoked."
In fact, he doesn't use gas or electricity to cook at all, relying entirely on a giant two and a half tonne oven that also produces coals for elevation grills and an open hearth. Kellie is a master of open-flame cooking and perfected his craft at Singapore's Burnt Ends, a perennial fixture on the World's 50 Best Restaurants that specialises Modern Australian barbecue.
But this is not you're average barbecue – alongside rich proteins like 31 day dry aged Mayura Station wagyu OP rib and butterflied barbecue chicken marinated in garlic, chilli and housemade miso you'll find plenty of more delicate options. Plant-based dishes include chickpea tacos with smoked eggplant and pickled Welsh white onion and salt-baked hispi cabbage with ajo blanco and fried almonds, while Kellie is particularly excited about the seafood.
"The quality of local seafood and especially fish is really starting to come through," says the acclaimed chef, who arrived in South Australia in the middle of last year. As well as whole roasted John Dory with a fennel and seaweed salad, the opening menu features Goolwa pipis with Indian spices and brown butter served in a smoked chicken broth and southern rock lobster served with yuzu kosho and citrus butter sauce.
All bear the marks of Kellie's signature open-flame cooking, but show just how much breadth there is to the offering at arkhé. And if you want to watch him in action the best seats in the house are undoubtedly the 19 settings at the chef's counter that look into a handsome open kitchen where steel benches have been replaced by gorgeous spotted gum.
As well as installing a range of new equipment, the extensive renovations have also allowed Kellie to split the venue into several distinct sections. The airy 80 seat dining room is reached through an anteroom-like entrance with bar seats and booths, and looks out over a paved courtyard. Those sections are perfect for anyone wanting to pop in for a quick visit as they serve drinks and elevated bar snacks only, but if you want to taste the full menu it's worth booking in advance because arkhé is already well on its way to becoming the hottest ticket in town.