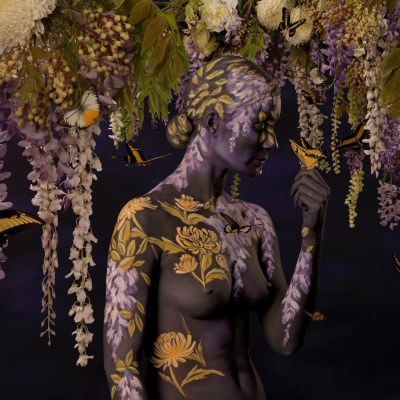 Across the month of April, Art On Parade will see works by local artists exhibited in a huge variety of venues around the bustling Parade Precinct. Follow the free self-guided trail and you'll discover a fascinating collection of sculptures, paintings, drawings, glass and photographic works produced by the vibrant local artistic community.
And this year, internationally recognised body artist Emma Hack (who shot to international stardom after her collaboration on Gotye's Somebody That I Used To Know music video) will be part of the festival for the first time, exhibiting three eye-catching works at ORBE salon.
"I'm excited to be a part of Art on Parade this year at ORBE," says the internationally renowned body artist. "I have known the owners Ida and Joe since the beginning of my career so it's wonderful to finally have a chance to showcase their beautiful space. I have selected a range of works from the past ten years to feature in their salon, including some rare 3D lenticular works in which the flowers appear to bloom as the viewer moves around the artwork."
Just down the road, Argo on the Parade's colourful, veggie-packed dishes will vie for your attention with Irina Mirosnitsenko's equally flamboyant paintings of cityscapes across the world and over a dozen works from multidisciplinary ceramicist Sonia Patel.
Or venture slightly off The Parade and you can see Pina Ascensio's Snorkelling Peacefully, Birdie at Norwood Football Club then find striking individual handcrafted glass artworks, and even watch a master glassblower at work at Eamonn Vereker Glass Art Studio & Gallery.
Head into the Caroma showroom and you'll see Kat Korossy's character-filled studies of rescue animals peeking out from between the myriad bathroom fixtures – get to know Boof the Kangaroo, Ewok the Tawny Frogmouth and Squirt the Rosella before finding Alison Waye's hyperrealistic oil paintings of scattered seashells.
And if you visit The Colonist, you'll find five incredible paintings from Yammagi and Brinkin artist Nikki Carabetta, who will talk about her fusion of First Nations iconography and contemporary styles at a Meet The Artist session on Tuesday April 19 at 6pm.
Wherever you look this April, you'll find a piece of local culture staring right back at you thanks to Art on Parade.