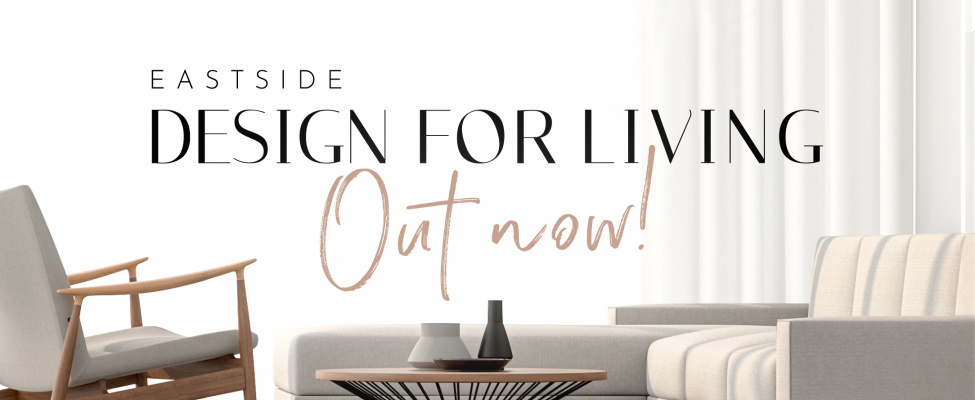 Visit one of the many furnishing, homewares and design stores lining Magill Road and you'll discover a sleek new publication waiting to be picked up. Launched by Mayor Robert Bria on June 15, Eastside Design for Living captures everything that makes the cluster of businesses in this vibrant precinct special.
When launching the publication, Mayor Bria said, "the City of Norwood Payneham & St Peters has a long-standing reputation for its stunning interior and homeware businesses, and it is for these very reasons the Council wanted to capture the talent, diversity and style of local establishments."
Whether you're considering a complete redesign, a seasonal refresh or simply searching for a feature piece that will add flair to a room, it's a timely reminder that Magill Road is your one stop shop for everything design-related. So pick up a copy of Eastside Design for Living today and find the perfect style for your home.
Furniture
If you need advice on where to start, the inhouse team of decorators, designers and architects at Abbode Interiors can lead you through a broad selection of elegant wallpapers, fabrics and handwoven rugs. And don't be surprised if the seating, tables and lighting fixtures at 1000 Chairs look familiar – as well as providing residential solutions, this showroom and gallery has outfitted many of Adelaide's most stylish hospitality venues.
At Aura Objects you'll find a carefully curated display of original furniture and lighting with a strong emphasis on sustainability, while the light-filled showroom at Adelaide Agencies specialises in custom solutions for home decorators with an extensive selection of designer sofas, lighting, artwork, rugs and soft furnishings.
If you're after something more retro, Realm Vintage specialises in mid-century furniture from Australia and further afield, stocking an eclectic collection of hard to find vintage pieces. And from set designers searching for authentic period props to homeowners tracking down a feature piece guaranteed to spark conversation, the customers are as eclectic as the retro furnishings, fittings and tools that fill Rock N Rustic
When it comes to home renovation and restoration, Adelaide Restoration Centre & Eco Tile Factory covers every period from Victorian through to Art Deco and more contemporary styles with an extensive range of hardware, fittings and tiles. And you can give any fading heirlooms a much-needed facelift at McConnell's Furnishings & Upholstery, which has specialised in reupholstering (as well as custom-made furnishings) for more than a quarter of a century.
More than mere furnishings, the bespoke and limited edition designs emerging from the workshop at Khai Liew are striking modernist works of art that display stunning craftsmanship, while Some Days are Diamonds uses salvaged timber and timeless design to create custom-made tables, sideboards and benches with a distinct modern twist.
Homewares
You could lose an afternoon browsing the 12 rooms packed with furniture, rugs, homewares, clothing and jewellery at Willie Stewart Interiors – or you could let them come to you, thanks to the excellent value in home decorating service. And you'll find an even more extensive collection at House & Garden, where sophisticated homewares cover every base from foundation pieces to finishing touches.
Like Aladdin's Cave, Flourish on Magill is filled with precious finds of every colour and shape imaginable, a treasure trove of unique and eye-catching pieces ethically sourced from across the globe. Barely twenty metres away, Twopairs is just as inviting with a range of stylish homewares, clothing and jewellery that reflects owner Christina Moulton's understated but elegant style.
Interior Renovators
Farquhar Kitchens specialises in designing functional kitchens that are easy to use as well as easy on the eye, and their services come with a personal recommendation from none other than Maggie Beer, while Packers has been offering precision designed built-in furniture for more than 50 years, taking care of everything from spacious walk-in robes to finer details like splashbacks and shower screens.
If you want to take a hands-on approach, Outside Square works with homeowners to develop a personalised style uniquely suited to their dwelling and lifestyle. Or take a true DIY approach with U-Install-It Kitchens and their range of cost-effective cabinetry, benchtops and appliances that are manufactured to your specifications and pre-assembled so they're ready to install immediately.