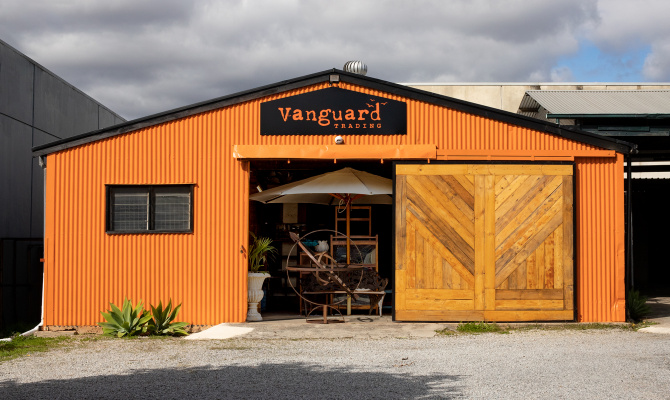 Sam Bishop has spent most of his life working in furniture. It's a career that has included stints as a furniture restorer, an importer of high gloss Chinese lacquer pieces and a salesman for high-end brands like Kartell and B&B Italia, but there's one job he recalls with particular fondness.
"When I was younger I used to have a stall at the Orange Lane Markets where I'd sell whatever I was making at the time," he recalls. The friendly, communal feel was a large part of the appeal, along with the fact that every piece he sold was individual and handmade.
Both of those themes are evident in his latest venture as the manager of Vanguard Trading, and it's not just the rustic homewares on display that hark back to his first gig. Though it's set fifty metres back from the street, it's hard to miss Vanguard's bright orange barn located near the start of Magill Road.
The adjacent warehouses were vacant for five years before Vanguard moved in, but they have quickly filled up with handmade furnishings, homewares and sculptures waiting for new homes. And while he primarily deals with wholesale customers, Bishop also throws his doors open to the public for one weekend every month.
"We've got all the stock in here already," he figures, "so we might as well let people come in and have a look." A small bar built from salvaged timber and terrazzo is testament to Bishop's construction skills, and on open weekends he fires up the coffee machine and transforms it into a café.
Step back from the bar and you'll find yourself surrounded by the vintage drawers, dressers, tables, benches and lampshades that fill the large warehouse. Bishop estimates that there are 500-700 items in stock at any given time, including "a fair bit of cast iron stuff and a lot of timber - mostly teak – plus lots of smaller pieces of rustic décor."
Eye-catching antique mirrors and meat safes are surrounded by newer pieces built from reclaimed materials, with fresh containers arriving from India almost monthly. And because everything is made by hand, no two pieces are alike.
Sourcing one of a kind items is a priority for Bishop, along with a "high volume, low price" philosophy that allows him to keep everything as affordable as possible. And at a time when some homewares stores have waiting times measured in months, Vanguard's policy is a throwback to simpler times – "if you see it here and you like it, you can take it away on the day."
The next retail weekend will take place on November 12 and 13, and the forward-thinking Bishop already has his sights set on something bigger. Next year, he's hoping to set up a market that recreates the welcoming atmosphere of his old home at Orange Lane.
"We've got this beautiful sawtooth warehouse that lets the light in, and because the neighbouring businesses are shut on Sundays I can use the whole carpark," he says enthusiastically. "We could have 12 tents with all kinds of artisans and producers, get a food truck in and maybe even some live music. Wouldn't that be great?"