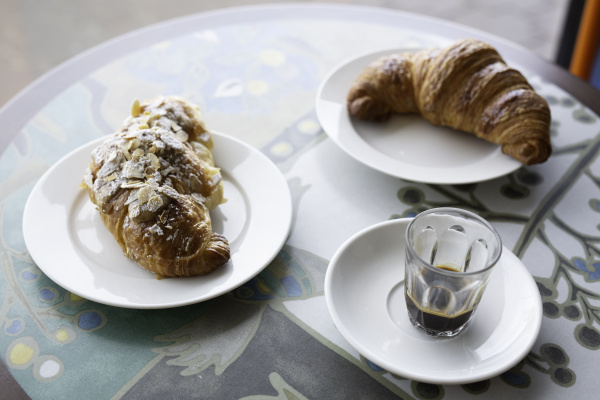 Breakfast: SAHA
In an airy home filled with stylish blonde timber furnishings and local artworks, SAHA's new location is the perfect place to start the day. The name means "health" in Arabic so it's no surprise that fresh dishes with a Middle Eastern twist rule the mornings here - the Lebanese Breakfast combines free range eggs with za'atar, sujuk, house labneh, olive oil, olives, tomatoes, cucumber, pickles and Lebanese bread.
A range of raw and vegan treats is available at the counter for those making a quick stop, and if you've already woken up with a coffee you can choose from a range of house blended teas or fresh juices like Sultan's Delight with strawberry, apple, mint and orange.
Morning Tea: Cannelle
It takes four days to make the croissants at Cannelle from scratch, but once they reach a customer's hands they usually disappear into a cloud of golden flakes in a matter of seconds. That labour intensive process results in hundreds of layers of pastry, each one separated by finely spread butter that fries them from the inside to create exquisitely fluffy masterpieces. Every morning the cabinets are also stocked with pain au chocolat, danishes and croissants filled with almond paste or a variety of savoury fillings that often sell out by lunchtime.
Lunch: Saigon Café
This unassuming Vietnamese restaurant is always popular at lunchtime thanks to the usual suspects: giant bowls of warming pho, light but flavour packed noodle salad bowls and bahn mi filled with thick chunks of glistening roast pork and pickled vegetables. But what makes it really stand out is the drinks selection.
Alongside the usual suspects like refreshing fruit smoothies and Vietnamese iced coffee that's as sweet as it is strong, Saigon Café also stocks a surprisingly good range of wines from the vanguard of smaller South Australian producers. Even better, the drops from McLaren Vale and the Adelaide Hills tend to the lighter side so they perfectly complement the spices in the food.
Dinner: Hoosegow
Fire is the most important element at Hoosegow, where Latin American and Asian influences are visible in a fusion menu featuring plenty of spice to go with the smoke. In the kitchen, succulent seafood, fresh vegetables and juicy proteins are chargrilled over red hot coals that match the cool, moody interior.
Bold flavours are the order of the day and the juicy signature chilli chicken leg marinated in herbs and spices and served with jalapeño aioli is the best seller with good reason, but there are plenty of other proteins all the way up to the mammoth 1.2 kilogram tomahawk steak. Just make sure to leave room for a cocktail or the equally indulgent Afahoosegow with espresso, Cointreau, Grand Marnier, chocolate gelato, toffee almonds, cardamom and almond galleta.