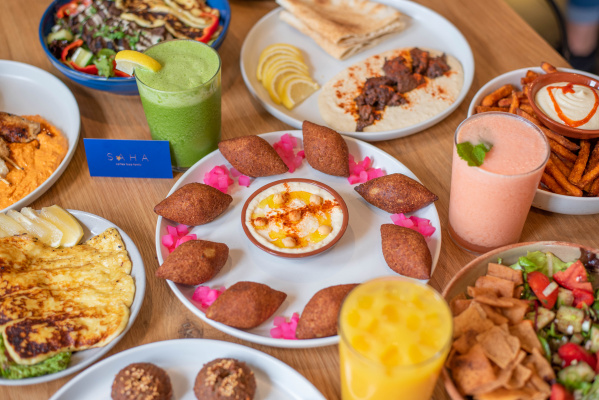 Breakfast may be the most important meal of the day, but there's no doubt which is the most enjoyable. Weekends are meant to be relaxing and there's no better way to lean into that than by enjoying an extended brunch with friends. And with so many spots to choose from, Magill Road has every taste covered. Whether you're dreaming of a stack of fluffy pancakes, a hearty (but healthy) feed or a boozy brunch with mimosas, here are the best brunch spots on Magill Road.
137 Magill Road, Stepney
As we head into spring, the gorgeous outdoor area at newly opened Cachemira is coming to life and makes the perfect setting for a Mediterranean-inspired feast. Grab a place around the ten-seater table and tuck into fragrant dishes bursting with flavour that let you savour the season – think fried eggs with spicy sobrassada and fresh pico de gallo or the signature Calamari Madrid that includes spiced salt and pepper baby squid, cherry tomatoes, chilli, chervil, dill and salsa verde on a toasted open baguette.
3 Ann Street Stepney
Just steps from Magill Road, this cute family-owned space is all about healthy choices that still taste great. Colourful plant-based dishes like the signature Nourish'd Bowl are packed full of organic fruit and vegetables while the Zucchini & Sweet Corn Fritters served on a bed of spinach and cherry tomatoes with smoked salmon, poached eggs and house made relish are a firm favourite. Most of the menu can be adapted for a range of dietary requirements, including the eight types of smoothie and if the cold-pressed juices catch your eye, they're pre-bottled so you can take some home where it will last for up to a month.
215 Magill Road, Maylands
With a name that means "health" in Arabic, it's no surprise that there are plenty of nutritious options among the Lebanese-influenced dishes at SAHA. But the light-filled building packed with local art and stylish furniture is just as attractive and is the perfect place to linger over a coffee or an eye-catching spread (except on Sunday, when owners Abd and Jinan are spending time with their kids). If you can't decide where to start, the sprawling Lebanese Breakfast has a little bit of everything including free range eggs, za'atar, sujuk, housemade labneh and pickles with olives, tomatoes, cucumber and Lebanese bread.
377 Magill Road, St Morris
Adelaide's first tigelleria specialises in tigelle, a traditional street food from Modena. These muffin-sized circles of flatbread are soft inside with a slight crunch on the outside and can be split open and stuffed with all manner of goodies. It makes them an incredibly versatile food and there are more than a dozen varieties on offer but fortunately you don't need to wait until lunch to enjoy them: the Tigelle a Colazione includes eggs, smoked pancetta and tomato, or you can opt for other twists on Italian classics like bruschetta with fried eggs, nduja and buffalo ricotta alongside coffee that would have them queuing up in Modena.